Managing a coworking space can be a tough job - you need to be on your toes 24x7 to make sure the client experience is as smooth as can be. This of course is seconded by the custom demands, changes, issues and so on. The issues can be anything from a malfunctioning laptop or device to a power outage, while the customer demands can be anything from a client demanding a cabin with purple blinds and high chairs to a separate segmented WLAN for online privacy. You know all that better!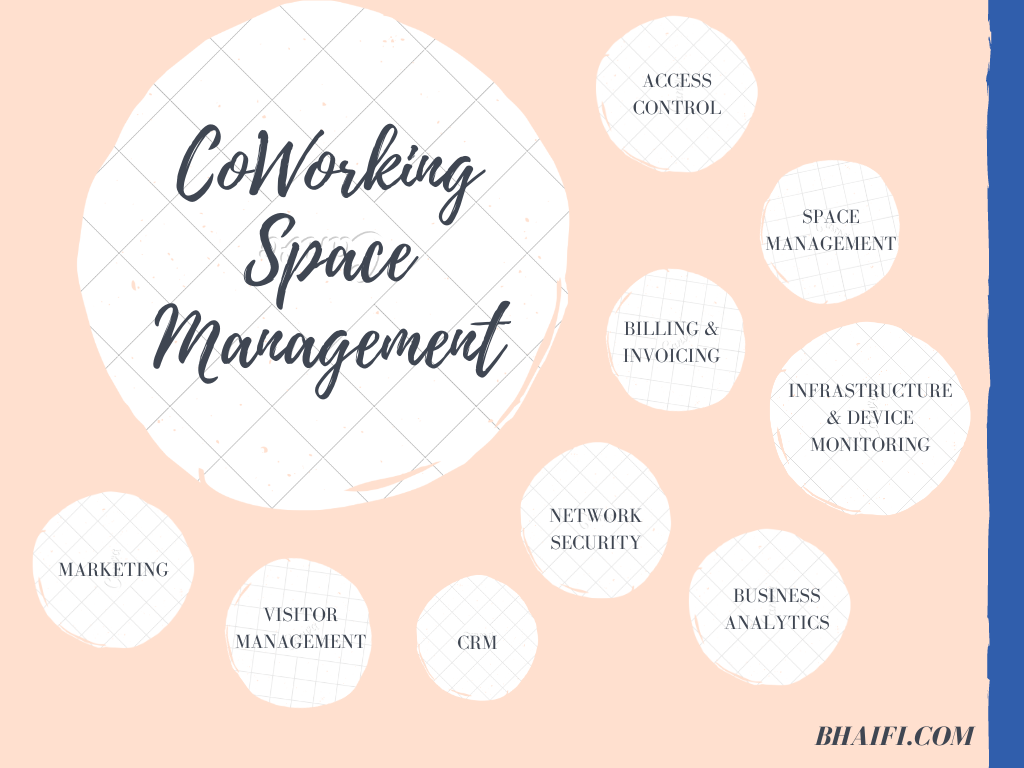 The key to victory, on the other hand, is one - you need to deliver! And, you need to deliver effectively in time! The more streamlined the experience at your workspace is, the better it is for your business. The Internet, the Furnishing, the Sanitation, the Pantry - all need to be in top condition all the time.
They are like towers of your castle - one falls, the safety of the entire castle is jeopardized.
The Impact of COVID-19 on Coworking Business
If you are reading this as early as nowadays, you know, this year has been rough for business. Falling revenues, rising churn, diminishing client base, need not all be mentioned. But just as the sustenance of life against all tests of nature would have had it, this adversity can be seen as an opportunity - an opportunity to change, to evolve - to opt for more flexible and scalable solutions. Solutions that can work with your existing hardware infrastructure or ones that offer occupancy-based pricing.
With diminishing workforce and funds in disarray, the time has come when coworking spaces should look beyond the traditional methods of carrying out operations to embrace artificial intelligence, analytics and unleash a greater degree of automation. A lot of day to day operational tasks of running a coworking space, that otherwise consume considerable time and labour - draining your resources, can now be automated with the help of tools we are going to talk about.
Honey sauce to sugar? Most of them are #MadeInIndia
The Top 5 Coworking Space Management Software available in India to go for in 2021
With the market already overflowing with the workspace management software of all proportions, we decided to take this time out to pick the best coworking space management solutions, made and available in India, that you should consider for their sheer mettle to meet the global standards. Additionally I have also included an open source coworking space management software that you might wanna check out.
1. CoWorking Ops - The Workhorse
A holistic retainer for coworking management, CoWorking Ops is a cloud-deployed software aimed at simplifying day to day operations. CoWorking Ops is prized for its level of detail and coherence as well as its proven results of having significantly reduced decision making time.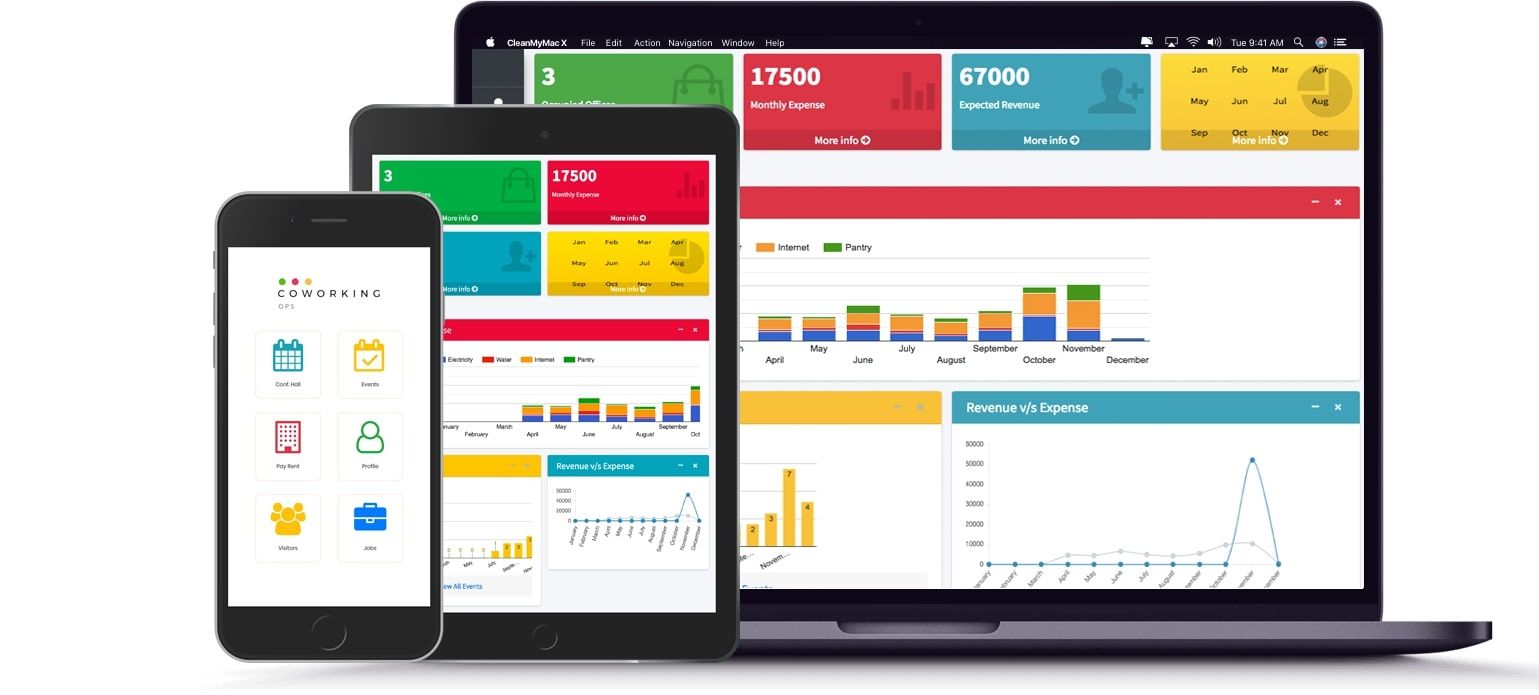 CoWorking Ops offers high flexibility to integrate with other solutions in place and a high customizability help tailor the product to suit your needs. Some salient features include:
Automated Billing 7 Invoicing
Room Allocation & Space Management
Member Management & CRM
Visitor Management
Flexibility through Integrations
Custom Planning Portal & Applications (UX) and
Business Analytics
Sporting a robust CRM coupled with its analytics, CoWorking Ops can help resolve issues in a more comprehensive and strategic manner. The Company offers a 30-day free trial, which you might want to roll in for, right away!
2. Engage - The App-Master
Engage caters to some paramount frames when talking of office and coworking space management, complimented only by a highly intuitive and simplified user interface.
Engage takes care of almost every aspect of running a coworking space, right from:
Contract & Vendor Management
Room Allocation & Space Management
Automated Billing & Invoicing
Member Management & CRM
Web Portal & Applications (UX) and
Visitor Management
Another noteworthy offering by Engage are their highly customizable coworking apps - you can avail 100% white labelled apps to further augment your client experience. These Apps, for their part, can be used to book rooms, services, chat with other members, etc.
While Engage doesn't offer free trials or versions, if you are interested, you can sign up for a demo here.
3. Brskly - The All Rounder
Perhaps one of the most stable and holistically well-balanced coworking space management platforms, Brskly is that contender who has practiced ten kicks a thousand times, instead of a thousand kicks ten times.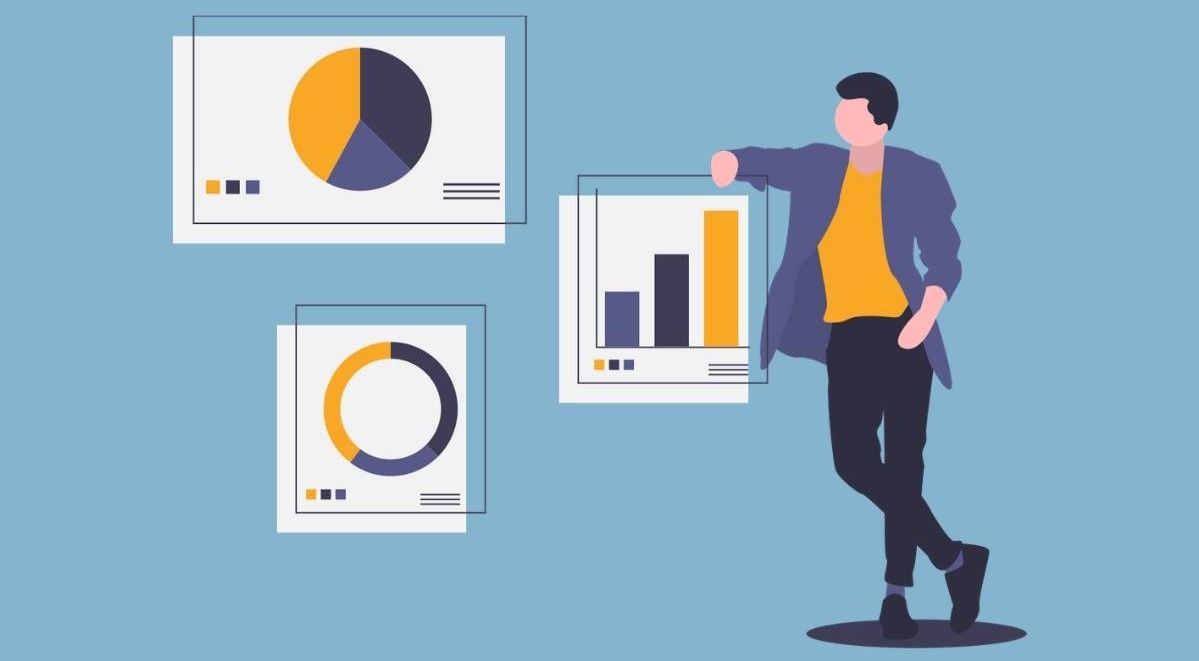 Quite like most other software on this list, Brskly aims to eliminate and streamline manual labour by automating day to day operations - and increase your revenue in the process. Some major offerings by Brskly include:
Room Allocation & Space Management
Automated Billing & Invoicing
Single Integrated Web Portal
Member Management & CRM
Visitor Management
IoT & Smart Sensor Solutions and
Business Analytics
Looking for a cherry to do the honours? Brskly is also prized for its amazing customized web development prowess. They can create a website for your coworking space venture that you can leverage for marketing, hence driving sales. Find Brskly here!
4. Digicuro - The Innovator
Digicuro is also one of the best tools made and available in India for the purpose of managing coworking spaces. Like other tools we have mentioned, Digicuro allows for automation of tasks to make sure your resources are channelized properly and is popular among the coworking community for its flexibility of incorporating various customizations at no additional cost.
They provide highly interactive features like:
Web Portal and Applications
Visitor Management: Virtual Tours for your prospects - a prized feature
Room Allocation & Space Management
Member Management & CRM
Business Analytics
IoT & Smart Sensor Solutions such as Face & Recognition and
Automated Billing & Invoicing.
What's more? Digicuro is one of the few tools on the shelf offering 100% white labelling and a free trial you might want to book right away!
5. Nandine - The Poor Man's Chicken
A collaborative work of Jacob Sayles and Kanawha Design Studio, Nandine is an open source community building and management platform that can be leveraged to help manage your coworking space. In easy words - Nandine is but a set of chassis and wheels that you have received for free. This definitely doesn't mean it's all set to blaze up the highway. You need to invest both time and money to get it going.

Putting that into perspective, to run Nandine, you still need a hosting service, a development team, a support & maintenance team and a designing team (for customizations); speaking in the least of terms. All that being said, I would recommend Nandine if:
You are considering a custom platform specific to your operations. And . .
You want to control the data - where it is stored and how it is distributed.
To learn more on how to use Nandine, do remember to go through the "getting started" section here.
There are many other tools around, but just as the curse of competitiveness would have it, not everyone can make it to the top. So is that all we need to ensure efficient management and profitability at a coworking space? A BIG NAH!
Don't forget Network Security, Cybersecurity and Data Security
Doubtlessly, Internet is the very oxygen of your coworking space business. If you are able to provide a speedy, secure & smooth internet connection, you know that 90% of your customer retention targets are already met - since internet is where all the work is happening. While traditional firewalls have been around for quite some time now, a whopping 52% of coworkers believe their online data is not safe in a coworking space. It's time we look at better, faster, lighter, more flexible and scalable solutions that are there on the table.
BhaiFi is one such Made in India software that automatically manages and protects your network to ensure a rich internet experience at your workspace. To add some more, BhaiFi can effortlessly integrate with all the tools we mentioned above and many, many more.
Summing Things Up
This does with our list of coworking space software that you might want to consider in 2021, given the gravity of the situation. Remember, price is what we pay, value is what we get. A top of the line internationally benchmarked software can definitely streamline your life for a price - but if you get the same benefits without the price tag, you know that enough is not the same it was before.
I was all the more interested in covering these particular startups and SMEs since this is the time when our country's economy direly needs such innovation. Hope I was able to address your concerns and you finally have what you have been looking for. Adjoined is a table containing everything you want to know and care about.
Comparison table for THE BEST Coworking Space Management Software available in India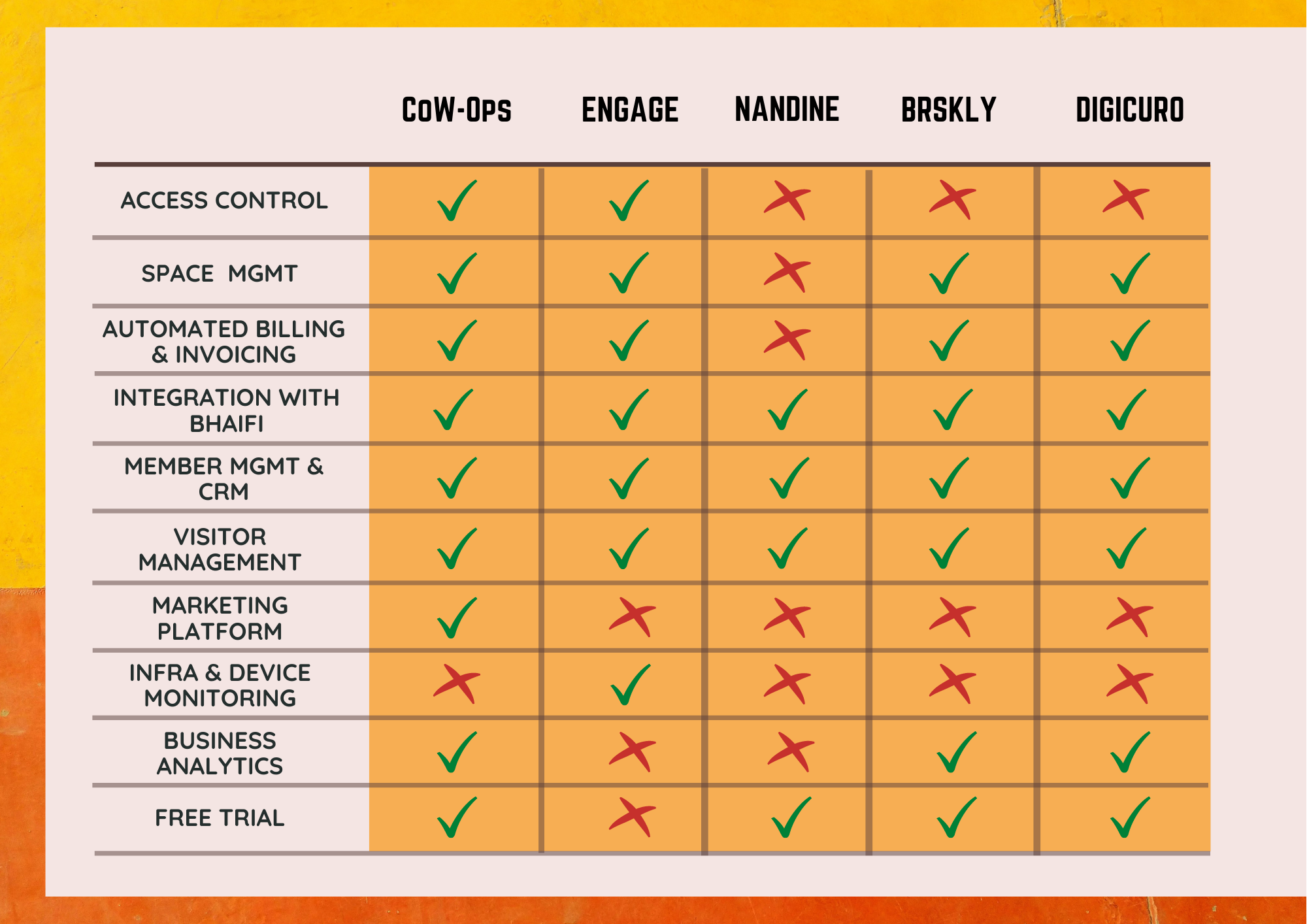 Important: It is not at all fair to compare open source Nandine to off the shelf software like other entries on the list, since you can any day get even more features out of it, depending upon how and what you are looking for. It has been placed there just for a basic idea and comparison of its most common functionalities.
Also, if you want a developer to help customize the Nandine to suit your needs, don't forget to check on Kanawha Design Studio, the original developers.
Cheers and Happy Managing!