What we are going to talk about is, that it really comes as a surprise to me that several industry active people have been in a state of confusion trying to differentiate BhaiFi and Firewall. Many of them still use an additional firewall to complement BhaiFi, although it is not needed. This article attempts to clear the air in this regard.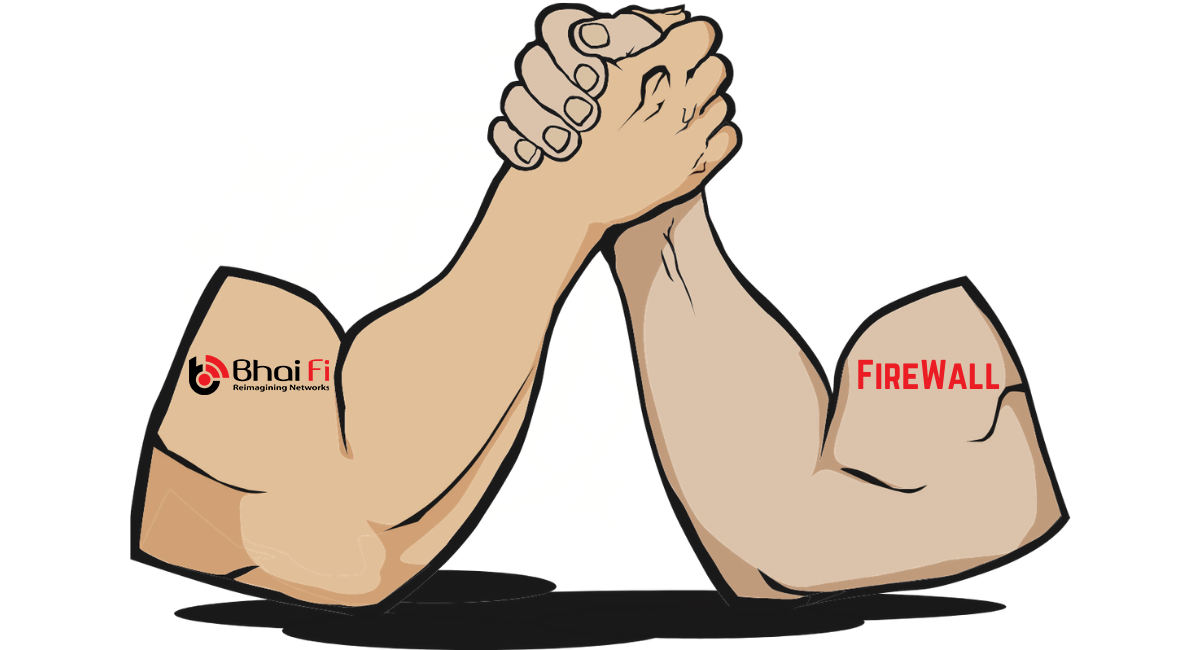 BhaiFi although quite similar to the traditional on-premise firewall in terms of purpose that is to secure an organization's network, the only difference being that it's deployed off-premise in the cloud.
BhaiFi is simple, easy-to-use & fully automated - It doesn't require any human intelligence to be operable.
Not to mention that firewall is just one of the many features of BhaiFi, that work collectively to ensure an even greater degree of enterprise network security, management and end-user privacy.
Why bother with Firewall or BhaiFi?
If your workspace operates without a Firewall protection, then I must let you know that you are plying atop a considerable risk. The importance of protecting and maintaining your network in this increasingly competitive and digitally capable age is not something we need to talk about. You know that already.
Given most of you already have a rough idea with respect to the Firewalls, today we will be specifically looking at the differences that matter the most to your business.
1. PRICING
I'm sure you do realize there is a difference between the terms cost and value. Something that comes with a higher price tag ought not necessarily to be a superior product. Same is true for traditional Firewalls when compared to BhaiFi's intelligent cloud-based Network Security & Management platform.
When talking about costs, it is essential to take both the CAPEX and OPEX variables into account. Cost of initially setting up BhaiFi is 1/7th the cost of setting up a firewall.

The graph below gives you a glimpse of it:
Additionally, BhaiFi brings to you, success-oriented pricing by using a "Pay-per-user" model, to ensure it doesn't burden your finances. As can be inferred, BhaiFi guarantees a much better per person Return on Investment (ROI) as compared to any other firewall.
Overall, we can conclude that BhaiFi can be availed at an affordable cost as compared to a traditional Firewall in the initial stages and you end up saving a considerable amount in the long run, making it a far more cost-effective solution.
This adjoining graph affirms the same:
2. VALUE PROPOSITION
BhaiFi comes loaded with tons of functionalities one can only help but miss in the traditional firewall. In order to make sure this does not become another feature list, I have decided to present it all the while keeping the benefits handy:
#Cloud-Based:
The most important benefit of BhaiFi being a cloud-based solution is its distributed deployment capability, making it the most-intelligent solution amongst others. That means you can manage all your business locations simultaneously from anywhere in the world!
#In-Built DOT Compliance:
Hearing it for the first time? Connecting to BhaiFi is as smooth as it is secure and hassle-free. The BhaiFi captive portal automatically captures the user credentials as per DOT compliance allowing it to take a deeper dive in forensic logging & demystifying the Cyber Attacks by not only identifying the devices involved but the users involved too.
#It Scales As Per Your Business Needs:
Another benefit comes in the form of scalability. BhaiFi can be scaled at any time to suit your business needs. All the backend complexities like architecture, hardware and software changes that need to be updated with time, take place within the cloud, not at your workspace.
#Automated ISP SpeedTest & Health Monitoring:
Time is money. Gone are the days of manually debugging the network issues that wasted a lot of time, all the while compromising profits and reputation. BhaiFi reduces debugging man-hours by identifying issues related to the ISP in real-time without even needing an IT engineer in-person to accomplish the same.
#Most Simplistic & Easy-To-Use:
We don't deliver reports, we deliver meaningful actionable insights. Insights in the form of charts and graphs that are easy to decipher requiring no human intelligence to operate.
Better seen than read, below is a glimpse of the same:
Uncluttered, Simplified, Streamlined, Easy to Understand BhaiFi Dashboard that monitors hardware infrastructure. Operating BhaiFi, as you can see, requires no technical expertise.
#Patented Auto-Connect:
Enjoy secure and seamless WiFi connectivity across all your locations as if they were just one-single-network.
#Proactive User & Infrastructure Monitoring:
Network health, speed and vulnerabilities under constant scrutiny allows for a more active monitoring of your workspace infrastructure. BhaiFi takes care of itself by 'learning' from your network usage patterns so that you don't have to.
#Real-Time Incident Alerts:
BhaiFi comes with a real-time alerting system that is going to alert you via email and SMS as soon as your internet at any of the monitored locations goes down.
#A Time Machine For Your Network:
BhaiFi intelligently allows you to travel back in time and replay the incident at any point in time to help diagnose security, performance and forensic issues.
BhaiFi is so loaded with features to make your business more productive, that you can expect at least 10x value for money when compared to any other standard firewall and an overall a multi-fold boost to your workspace productivity. There are just so many issues to plague your mind anyway, we make sure network issues don't figure out in them.
Verdict
BhaiFi remains the holy grail for SMEs across industries, all the while being a considerably better solution for Offices, Co-working Spaces, Hotels, Café, Retail Business and Co-Living Spaces.
Technically is an absolute go for anybody who desires a future proof, alpha graded security and management for their network, to be complemented with flexibility. At BhaiFi, your organizational productivity and digital well being remains our top priority.
Click here now to unleash the next level of internet experience at your workspace, with a secure, self-managed and seamless, it shall change the way you imagine your network!